He was only doing his job Ariana….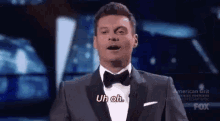 Ryan Seacrest recently interviewed Ariana Grande and he asked her about something a lot of her fans would love to know more about, her relationship with her boyfriend, rapper Mac Miller. Ariana posted the photo below on Instagram of her and Mac Miller with the caption, "Baabbyy."
So obviously Ryan asked her about that but Ariana decided to shut him down.
Ariana does not have to answer any questions about her relationships but when it's brought up just giggle and say, "I don't really wanna talk about it right now." Instead of getting all defensive. I'm not sure why Ariana went on an EARLY MORNING TALK SHOW to talk to Ryan but refused to answer Ryan's question because "IT'S TOO EARLY." Also she confirmed she was dating Mac Miller the other day on Ellen but was shocked Ellen was bringing her relationship up during the interview. But I understand why she didn't give Ellen any attitude because it's freakin' Ellen DeGeneres AKA the sweetest human on earth.