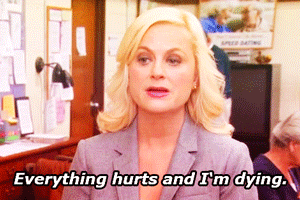 I guess saying "I'm sick" wasn't enough for these people to use.
According to CareerBuilder.com, 35% of us have faked a sick day in the last year and they released its annual list of the weirdest/craziest sick day excuses people have used this year.
Check them out:
1) Someone said the ozone in the air flattened his tires.
2 ) Someone said their pressure cooker had exploded and scared her sister, so she had to stay home.
3) Someone said they had to attend the funeral of his wife's cousin's pet because he was an uncle and pallbearer.
4) Someone said they were blocked in by police raiding her home.
5) Someone said they had to testify against a drug dealer and the dealer's friend mugged him.
6) Someone said her roots were showing and she had to keep her hair appointment because she looked like a mess.
7) Someone said they ate cat food instead of tuna and was deathly ill.
8) Someone said she wasn't sick but her llama was.
9) Someone said they used a hair remover under her arms and had chemical burns as a result. She couldn't put her arms down by her sides due to that.
10) Someone said they were bowling the game of his life and couldn't make it to work.
What was your craziest/weirdest "sick day" excuse?