Adam Levine and Channing Tatum are getting into the alcohol business!
Channing Tatum officially partnered up with Grand Teton Distillery to bring you a new line of vodka, Born and Bred.
Born and Bred is according to their website, "an American craft vodka made from the best Idaho potatoes. Twenty-times distilled, it's prepared in small batches and nourished by the unspoiled glacial water that flows from the Grand Teton mountains."
Channing told Bon Appetit  that he and his buddy Jack tried 25 different types of American vodka and only liked 3 of them. That's why he partnered with Grand Teton it was his favorite because "there was a smooth taste to do it, like a cool feeling in your mouth. The after taste doesn't burn."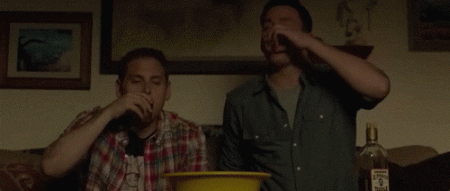 Channing isn't the only one getting into the booze business, Adam Levine partnered with Van Halen's Sammy Hagar to bring you Santo Mezquila, which is a mix of tequila and Mexican alcohol mezcal.
Two years ago while out to dinner in Mexico, Adam and Sammy mixed some tequila and mezcal together and loved it! That's how they came up with the idea to create"the world's first mezquila."
A bottle of their tequila will cost you about $55 and Adam says, "With Santo you get that smooth, full agave, rich tequila flavor with a touch of smoky-sweetness that you can only find with mezcal."
Yum!