Starbucks launched an investigation after a barista allegedly wrote "Fat" on an 11-year-old cup in Fort Kinnaird, Edinburgh.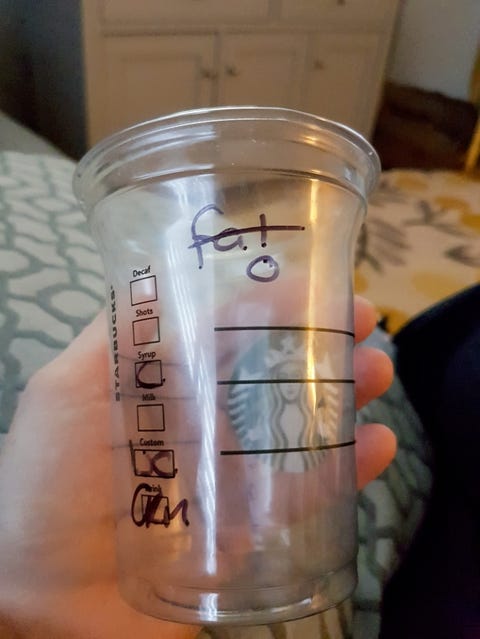 Teigahn Sangster went to Starbucks for the first time without her parents and when she ordered a small caramel frappucino she claims an employee wrote  'fat' or 'fato' on the side of the cup instead of her name.
Teigahn said,
"I felt really shocked when I saw what was written."
"I'd been excited to go as it was the first time we'd gone on our own and felt really grown up but after seeing what was written I just wanted to go home. It really spoiled it for me."
Teigahn's mom said she was very "disgusted" that this happened and when she told her daughter to bring the cup home so she can she Teigahn responded, "it doesn't matter mum, I am fat."
Teigahn's mom said,
"It made her feel so little and knocked her confidence, I think it's terrible. She's tall for her age, 5ft 5, and is well developed already but she's not fat by any stretch of the imagination."
"The staff need extra training and if it was done as a personal attack that person should be reprimanded, it's completely disgusting."
A  spokesman for Starbucks said:
"We were concerned to learn of this as it is not indicative of the friendly service we provide in our stores. We are very sorry for the upset this has caused the family.
Following our investigation, we want to reassure that our store team did not write this intentionally. It was originally crossed through and the circle is an indication that the partner (employee) hasn't captured the name correctly. We would like to get in touch with the family directly to explain and apologise."
I think this whole situation was a huge misunderstanding. She ordered a frappucino. The F probably stands for that.
(Metro)