How great is this! The 1st autism-friendly hotel just opened right here in Canada!
Cathy Lomond is the owner of Hotel Port aux Basques in Newfoundland and she worked with an organization called Autism Involves Me (AIM) to help make her hotel guests with autism relax and still feel at home.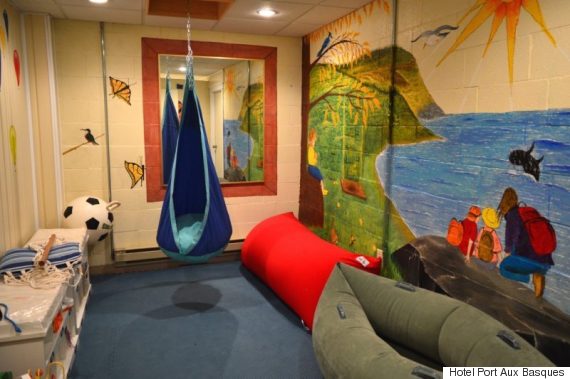 (Image Huffingtonpost/ hotel Port aux Basque)
Her autism-friendly hotel include pictures and small objects that are well secured to the wall, child proof safety locks, high door chains, a kids' menu that has pictures of the food and they also converted their gym that was not used very much into a special lounge.
The lounge has a colorful painted mural, a safe climbing wall, a swing and Huffington Post notes there's even a 'sensory boat to help engage children with autism in a comfortable environment.'
The staff at this hotel have all been trained so that they can really help any guest with autism. Lomond explained to Huffington post, "I wanted my staff to be able to help the customers travelling with an autistic person to understand the needs."
AWESOME!