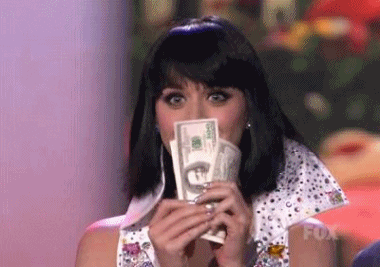 It's been reported that Katy Perry will earn $25 million as a judge on American Idol and she's proud to make all that money!
During a recent radio interview Katy said,
 "I'm really proud that as a woman I got paid. And you know why? I got paid, pretty much, more than any guy that's been on that show. And by the way, I love men. So I'm a paid woman and I'm ready for a beautiful man."
Simon Cowell was actually the only Idol judge to make more, sources say he made between $36 million and $45 million during the end of his Idol judge career. 
During the interview Katy also talked about Miley Cyrus who was the inspiration for her track I Kissed A Girl. 
"There were so many muses to that song. Also, when I was that I age, I was just a little sh*t stirrer… I think it was quite interesting at the time because it was a song that, you know, posed a question in people's minds and brought the conversation to a general public perspective, which I'm really proud of. But, yeah, of course I think the Miley thing, by the way, I love her so much. And I just see how authentic she is and trying to be and I just, honestly, god bless everyone on their journey and I just hope that they can do the same for me, truly have love and respect for everyone."

She continues and ends her thought with,
"But this industry is a f**king nightmare. It's a f**king nightmare."
American Idol comes back next year.