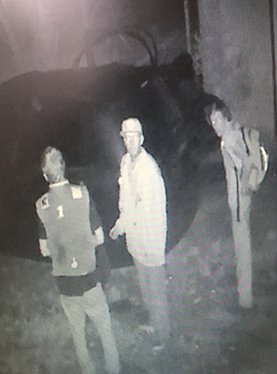 Barrie police are seeking the public's assistance to identify three males of interest following the damage of several vehicles and equipment at A and A Auto Wreckers, at 456 Tiffin Street, in Barrie.
On Monday, June 19, 2017, at approximately 3:07a.m, three males were captured on video surveillance loitering throughout the property and in the area where several vehicles and equipment had been tagged with offensive language in black spray paint.
The suspects are described as:
Suspect # 1
Male, white (20-25 yrs.)
5'6 -5'8″, slim build
Light brown/blonde hair, short and unkempt
Wearing a vest, black t-shirt, jeans and black shoes with white patches on the back. The vest has the number "1" on the back, a patch on each shoulder and one patch at the bottom of the vest. The front of the vest has approximately 4 patches on the left side and two patches on the right side.
Suspect # 2
White male (20-25 yrs.)
5'6-5'8″ , slim build
Goatee
Wearing a flat brimmed baseball hat, light color jacket, dark pants and black shoes with white trim.
Suspect # 3
White male (16-19 yrs.)
5'6-5'8″, skinny build
Blonde/light brown hair – medium length
Carrying a light coloured backpack with black straps
Wearing a t-shirt, jeans and black shoes.
The investigation is ongoing and anyone with information is asked to contact Constable Tombs of the Barrie Police Service at 705-725-7025, ext.2794, or contact Crime Stoppers at 1-800-222-TIPS. You can also leave an anonymous tip online at www.tipsubmit.com.