I think i'm experiencing second hand embarrassment!! This might be too awkward to watch!!
Things got SUPER awkward last week when Ellen DeGeneres caught an audience member STEALING from her gift shop!
.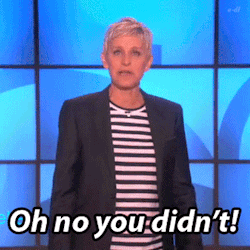 .
So here's what happened, before the show actually started, Ellen put a bunch of cool swag on a table and the audience was told they can have ONE item for free. Let me repeat. THEY CAN HAVE ONE ITEM FOR FREE.
What the audience didn't know is that Ellen's team had set up HIDDEN CAMERAS to see who was honest and who was not and they caught one lady who decide to take advantage of Ellen's generosity. She stole as much as she could and was caught red-handed!
Clearly this lady has never seen a single episode of the show because real fans know there are hidden cameras EVERYWHERE!