Not only is it a perfect, refreshing treat for the summer, it's also…fashionable?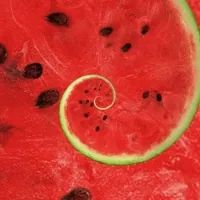 And no, don't worry, I'm not talking about actually WEARING watermelon and getting sticky.
But the new trend involves carving a piece of watermelon into the shape of a dress and strategically placing it in front of the subject of your photo and snapping a pic. (Obviously don't let your small children do this)
And if it's done right, it looks lie the person in the photo is actually wearing a slice of watermelon!