I feel bad for celebrities and people who are "known". It's hard to get away from the crazy fans and the flashing lights from the cameras.
Jennifer Lawrence was on "Late Night with Seth Meyers", and she talked about how she got into a bar fight after a man repeatedly asked to take a selfie with her.
Lawrence was in Budapest where she was filming her new movie "Red Sparrow", and stopped into a bar with some of her friends.
The man asking to take a photo with her wouldn't leave her alone, and after saying no multiple times to him, the man got angry and said f*** you to her.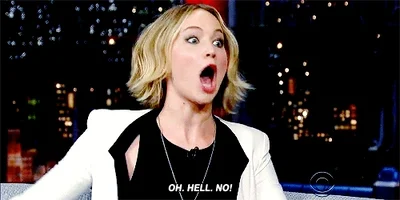 (Giphy)
Lawrence got so mad that she decided to throw her drink all over him and his luggage.
Check out the interview below! (Selfie fan story is around the 3:45 mark)