Sarah Silverman is helping a stranger from Texas, who she met last week after he called her a REALLY vulgar word on Twitter.
Basically, it started when Sarah Tweeted that she was open to understanding more about Trump supporters and their beliefs.  A guy named Jeremy wasn't buying it, so he responded with one word…the C-word.
Instead of ignoring or even blocking him, she Tweeted back:
"I believe in you.  I read your timeline, and I see what you're doing, and your rage is thinly veiled pain.  But you know that.  I know this feeling.  P.S., My back [pain] sucks too.  [Try to] choose love.  I see it in you."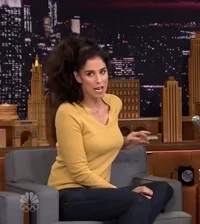 (Via Giphy)
Eventually, Jeremy apologized for calling her that terrible word. Sarah said she didn't care, and began asking if there were any doctors in San Antonio willing to help him out.
Jeremy said tips started coming in, and that Silverman also offered to cover the medical cost.  He'd already raised a little cash all on his own. Now, he's paying it forward by giving THAT money to others who need help!!
Source: wisebrother.com
Image: Vevo